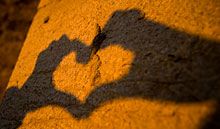 Experienced Supervision for Counsellors and Non-counsellors
The minimum amount of clinical supervision required by BACP needed is 1.5 hours per month depending on experience. Supervision is important for discussing casework and other professional issues in a structured way. The purpose is to assist the practitioner in learning from his or her experiences and to progress in expertise. This benefits the service user / client and ensures good and effective service, helping you to evolve your practice.
There will need to be an agreement about the boundaries of confidentiality regarding the clients to whom you are accountable.  This will vary depending on whether you are in training, working through an agency or in private practice.
I also offer supervision to non-counsellors who are working in different environments, for example; teaching, housing, management in regards to agency policies and also private supervision.
Disclaimer
With all new supervisees Trinder will ascertain your qualifications, professional membership and insurance.  She will always ask about your expectations of supervision and clarify her limitations and boundaries.  As a supervisor Trinder will support and guide you to meet your needs and expectation.
Trinder will be mindful of her supervisees' feelings with clients and support you in acknowledging these and how they might affect best practice.  If there is a client issue that personally affects your professional work, she will encourage attending your own personal therapy to work on this.
An understanding and awareness of difference and diversity needs to be kept in mind at all times in our work together to ensure equal opportunities for clients.
Trinder aims to support, accept and interact with her supervisees in a collaborative and confidential working manner.  Trinder is aware that she needs a good understanding of different theoretical models, with a willingness and openness to declare what she may not know and might need to research.
Trinder hopes this answers any questions you may have about supervision and how she works, but please do not hesitate to contact her for any further information.
You may do this by telephoning Trinder on  07799 646815 or emailing enquiry@letchworth-counselling.co.uk